Coast To Coast,
People Are Talking About Myths & Truths!
Valuable Insights
This book shares many valuable insights in a way that will allow you to take a journey through your own life to see how you stack up. Are you on the right track, or do you need a course correction?
quick and easy
This quick and easy read will open your eyes to myths you always thought were true, and truths you never knew. It also makes the process of financial planning intriguing and easy to follow.
Potential Return
No matter where you are on life's journey, your time invested with this book has a huge potential return, both in practical financial terms and through your own peace of mind.
Great for all
This is great for individuals and organizations!
Why Is Financial Literacy So Important?
Financial literacy is the ability to understand and effectively use various financial skills, including personal financial management, budgeting, and investing. Financial literacy includes the knowledge, skills and confidence people need to make informed choices about money now and in the future. The great news is…it can be taught and learned. By exercising good financial practices, such as setting aside money for retirement, Canadians also contribute to the country's economic stability.

Find Out More
Meet The Author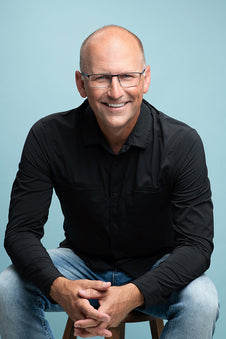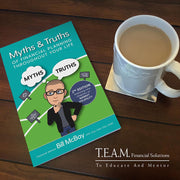 Bill McBay CFP CLU CHS CEA CFDS
As a Certified Financial Planner, Bill McBay has enjoyed a successful career as a Financial Planner since 1997. His favourite part of this role is getting to know clients personally and providing them with the knowledge to help them achieve their financial goals and personal dreams.

He believes people make the best decisions when they fully understand all their options and can make an educated choice. Reflecting this philosophy, he named his company T.E.A.M. Financial Solutions. T.E.A.M. is an acronym for To Educate And Mentor.

Besides this book, Bill has created various tools to help clients manage their financial lives. One of the most popular is a retirement planning course that turns common retirement planning exercises into a mock game show that can involve the whole family. Bill's clients benefit from his passion for estate planning and his mission to make it enjoyable and easily understood, which allows them to be confident in the decisions they make about their financial future.


Signing Events and Keynote Speeches
Bill McBay is available for charitable and corporate events. A list of topics includes:
General Summary of the Book
In this keynote, Author Bill McBay reviews the Myths & Truths as outlined in the book, Myths & Truths of Financial Planning throughout your Life.
Creating your Financial Roadmap
This session outlines how to build a financial roadmap or financial plan and identifies common mistakes made in money management. It outlines successful way to minimize your taxes while creating more wealth.
Living Your Retirement Plan
The sources of income in retirement are discussed in detail as well as options retirees have to minimize taxes and protect their hard earned savings.
Plan for Retirement Now
This session discusses the sources of income during retirement and how to use those same sources throughout your working career to reduce your taxes and create as much wealth as your require for retirement.
Where there's a will,
there's a way
What happens when you die?
This and many other questions are answered in this very popular session. From Wills and appointing Executors and Trustees to Powers of Attorneys and how to minimize taxes upon your death and everything in between.
This session is popular as everyone can relate either personally or through the experience of a relative.